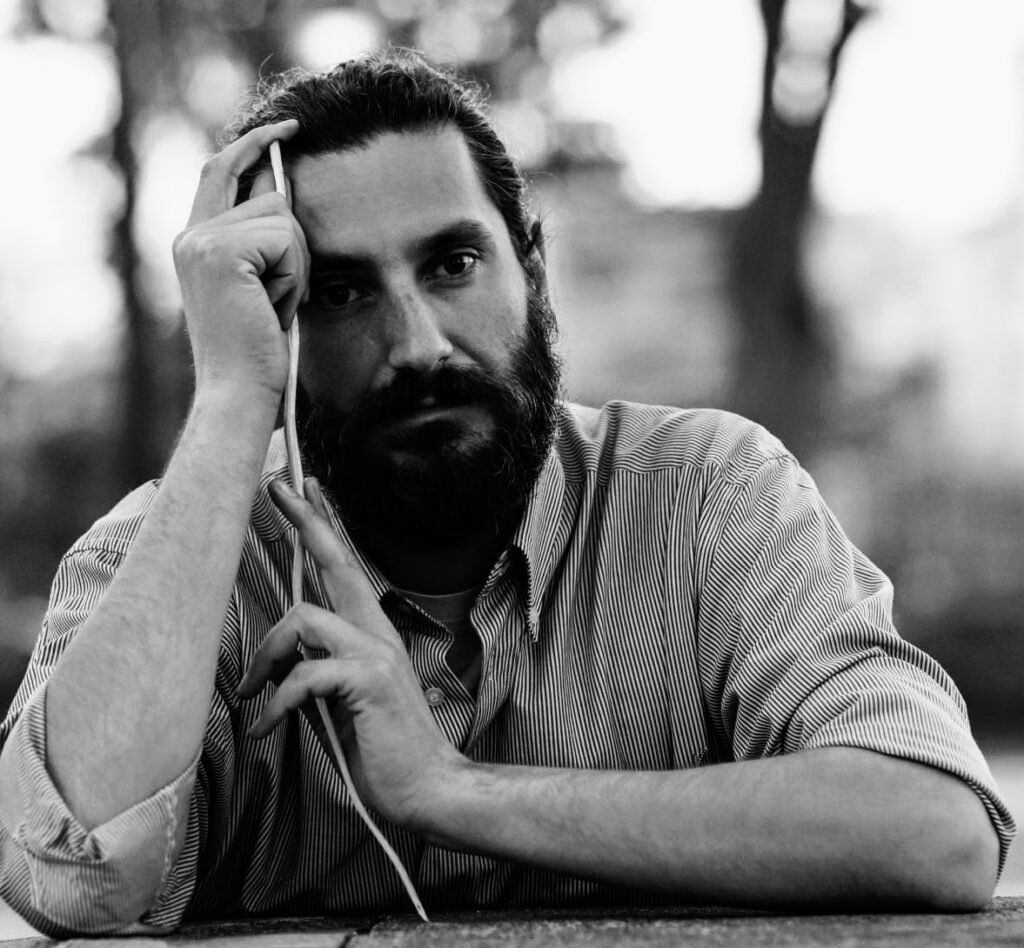 Konstantinos Papargiris 11/12/1976
1994-97. Larissa first drawing lessons: Taught by the sculptor Christos Makropoulos.
1995 he frequently visits the atelier of Vaggelis Dimitreas (painter and professor at the University of Fine Arts in Thessaloniki).
1996 writes 3 theatrical plays, based and inspired on Watteaus paintings. He publishes the third one, the music of which was composed by Spyros Kavallieratos (June 7 Larissa).
In 2001 he completes his studies at the University of Fine Arts in Florence (1997- 2001) two years after his residence in the University of Fine Arts in Lecce (South Italy). Degree 8,2/10.
2005 he attends for 3 years, series of scenography lessons at the laboratory of Maria Chaniotaki (writer and stage designer- scenographer).
19/05/15 Athens, "Athinais Culture Center" stages the theatrical monologue PURE. Director: Judy Boyle, Lighting designer: Eleftheria Deko, Writer: Annabel Knight, Costumes: M. Chaniotaki, Assistant: Konstantinos Papargiris.
19/05/05- 05/06/05 first personal exhibition dedicated to Joseph Beuys, hosted at the Art Gallery of Yanna Grammatopoulou in Athens.
1998 he is collaborating with Vassilis Tomanas (publisher and translator of NISIDES, Publications in Thessaloniki. Title: The craftsman, Writer: Richard Sennet. Title: Angels better knows, Writer: Foulla Lambele. Title: The blackbird, Writer: Ourania Bagkou. Title: Ichthis Omogenis, Writer: Mehmet Yashin, Title: Collection of Cyprus Poetry,  Writer: Mehmet Yashin.
2009 Grez sur Loing (Fontainebleau- France) he creates an artistic greek colony with Sophie Batsis (businesswoman), Lucie Baudon (art manager- curator), Chloe Leray (artist) and Dolly Georgantza (artist), in order to promote the greek culture and greek artists too.
2009 he is awarded by the mayor of Grez sur Loing with the medal of the city.
2011 he is provided with a permanent showroom for his paintings in the gallery Early Grey (Fontainebleau).
2011 he creates a mural on the front wall (10 meters high per 40 meters long) of the 2nd Elementary School in Elassona (Greece).
2012 he creates a serie of murals in the Municipal Art Gallery of Gonni (Tembi's Valley- Thessaly) and he also curates the permanent exhibition of the Gallery which collection comes from the donation of Zisis & Christiane Papadimitriou to the Municipality of Tempi.
2016 publishes his first book , a poetry collection. Title: Evenourgos, editor "Perispomeni", Athens.
2018 mural paintings – Chapel of Agioi Saranta, Sikinos island, Cyclades Greece.
2018 – 2019 stage designer and taking part in the  theatrical play "Lysistrati" of  Aristofanis, Director: Takis Moschos. Skopelos island, Sporades Greece.
2019 he is giving art lessons in Paris.
For the last 20 years he is teaching history of art, drawing and painting in schools of primary and secondary education in Greece.
His works are found at the State Museum of Contemporary Art of Thessaloniki and various private collections in Greece and abroad.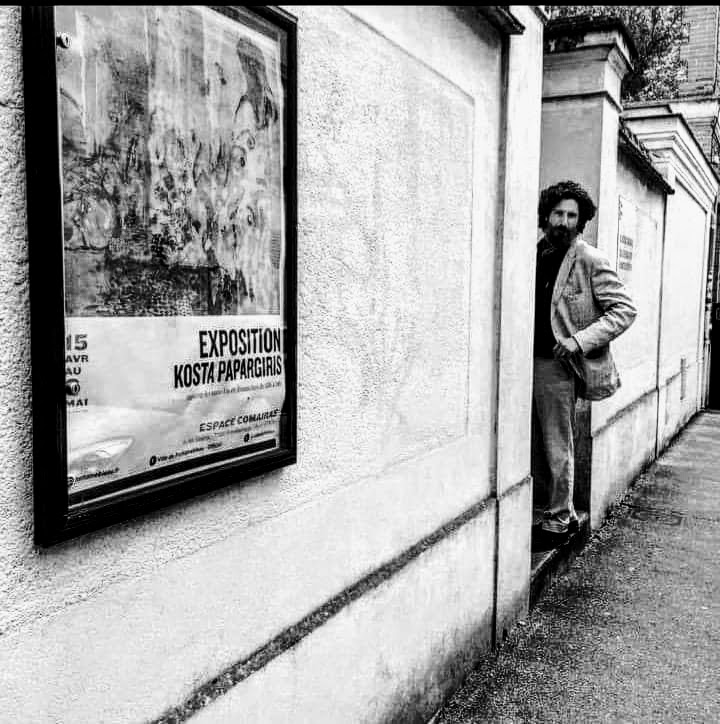 Solo exhibitions
2022

Municipal Art Gallery of Piraeus, 17/10/22 – 23/10/22

2022

Municipal Art Gallery of Larissa "Takis Tloupas" Larissa, 4/4/22 – 30/4/22
2017 Accademy of fine arts of Fontainebleau- "Comairas", 15/04/17 – 08/05/17
2017 "Desmos Art Gallery", Paris, 28/12/16 – 04/01/17
2016 "Kaplanon 5 Art Gallery", Athens, 09/02/16- 27/02/16
2016 "Kaplanon 5 Art Gallery", Athens, 23/02/16- 26/03/16
2015 "Desmos Art Gallery", Paris, 23-29/06/15
2014 "Kaplanon 5 Art Gallery", Athens, 03/06/14- 28/06/14
2014 "Desmos Art Gallery", Paris, 15/04/14- 25/04/14
2013 "Terzo Mondo Art Gallery", Berlin, 05/05/13- 20/05/13
2012 "Atelier Ouvert I", Institute Francais of Larissa, Larissa, 03/12/12- 12/12/12
2012 "Install a Ritual- Perform a Prayer", Space on White, Manhattan, New York, 03/11/12
2012 "Eikastikes Anazitisis Art Gallery", Athens, 21/02/12- 16/03/12
2011 Accademy of fine arts of Fontainebleau- "Comairas", 16/04/11- 08/05/11
2009 "Early Grez Art Gallery", Grez sur Loing (Fontaineblau- France), 17/08/09- 28/08/09
2009 "Municipal Art Gallery of Larissa", "Takis Tloupas", Larissa, 03/06/09- 20/06/09
2007 "Municipal Art Gallery of Larissa", "Takis Tloupas", Larissa, 10/11/07- 28/11/07
2006 "Aglopoulos Art Gallery", Larissa, 06/06/06- 27/06/06
2005 "Ekfrasi Art Gallery" Gianna Grammatopoulou, Athens, 19/05/05- 05/06/05
Most important group exhibitions
2018 "The Memory of the Revolution", Municipal Gallery of Larissa, 13/10/18 – 30/11/18
2012 "Para Thin Alos", Ermoupoli, Syros, 11/07/12- 20/07/12
2012 "Carte Blanche IX", Booze co-operative, Athens, 30/06/12- 05/09/12
2012 "Hardcore 4", Booze co-operative, Athens, 03/06/12- 10/06/12
2011 "Myro Art Gallery", "Asma Asmaton", Thessaloniki, 13/10/11- 28/10/11
2011 "Myro Art Gallery", Thessaloniki, 08/09/11- 30/09/11
2010 "Early- Grez Art Gallery", Grez sur Loing (Fontaineblau- France), 6 artists inspired by the writer R.L. Stevenson (Festival R.L. Stevenson), 16/10/10- 20/10/10
2010 "Booze co-operative", Athens, 05/06/10- 08/08/10
2009 "Municipal Art Gallery Giorgio de Chirico", Volos, Greece, 27/02/09- 16/03/09
2008 "Art Tower Agora", Athens, 08/12/08- 10/01/09
2004 "Ekfrasi Art Gallery" G. Grammatopoulou, Athens

, 15/06/04- 27/06/04

Municipal Art Gallery of Larissa

"Takis Tloupas" Larissa